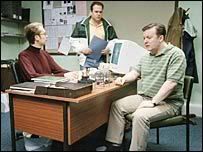 i only got one more song done last night because it was a long one... i think it may have been his longest song cycle that didn't just use repeats of certain sections and thus ended up sounding fairly interesting in the end.
i'm still crossing my fingers about the need to replace the pin-connector in my NES... i think i might be able to skate by without it.
in the meantime, i'm distracting myself with HBO's
Extras
. fantastic stuff.